With so many schools focusing on character education and/or Positive Behavioral Interventions and Supports (PBIS), we wanted to highlight how one of our Super Schools, Frank W. Reilly Elementary in Chicago, is using their Awards Maker to support their citizen/character initiatives.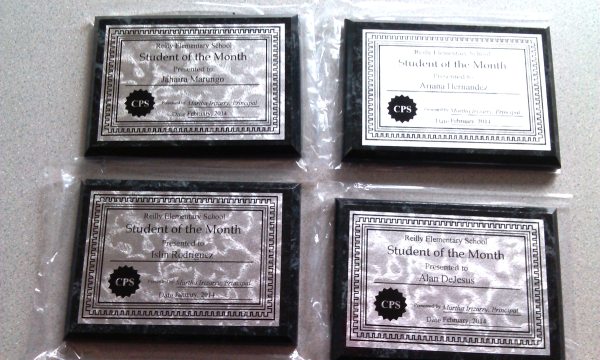 We talked to school officials at Reilly Elementary to learn more about their "Student of the Month" Program, which was created this school year to honor students who exhibit key character traits each month. With an appointed committee and chairperspon, the Student of the Month Program recognizes 50+ students monthly for exhibiting that month's assigned trait. Examples include:
Respect myself and others

Shows cooperation and teamwork

Helpful with peers & staff
In the large school, which educates over 1200 students in over 50 classrooms daily, teachers in each room select one student per month who has consistently demonstrated that month's key trait. Selected students are honored at a monthly luncheon where school Principal, Martha G. Irizarry, presents VariQuest Award Plaques to each student in front of their peers. When asked about the Program, Mrs. Irizarry said:
Every month our teachers select a student in their class that serves as an exemplar to the character education theme of the month. The plaques look so authentic and receiving such a great award just livens our children's beautiful faces. We add pizza and juice to the mix. We serve them in the small gym which is adjacent to the cafeteria after setting up the tables with colorful table covers and balloons. This event students with great character to be recognized. In many instances its the only award they receive. The Plaque becomes a great keepsake!
Daniel Postlethwait, Student of the Month Coordinator at Reilly Elementary also commented on the Program:
Student of the month is a terrific chance for the students at Reilly Elementary to be recognized for their citizen/character strengths. As the coordinator of Student of the Month, its very exciting to see the students faces light up as they are presented such a nice plaque with their names on it by our school principal, Martha Irizarry. Each month we have our teachers select students who demonstrate specific strengths of personal character or citizenship as a way of presenting peer role models and start conversations about the importance of these traits. The names of the students are entered into a shared school document and then we use the machine to print out the individual stickers and place them on the plaques before the special luncheon that we have every month. The award maker is very easy to use and in the matter of moments a few of us can finish all 50-60 plaques. The students really get into Student of the Month and look forward to hearing the names of who will get recognized by their teachers and the principals.
At VariQuest, we would like to congratulate Reilly Elementary on creating such a positive program and for sharing their story with us!
How is your school using the VariQuest Awards Maker for character education or PBIS intiatives? Leave a comment and let us know!