Osseo Area Schools District 279
Brooklyn Park, Minnesota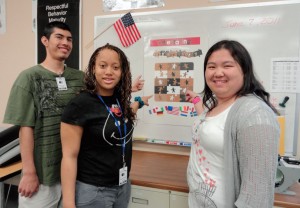 As the school year comes to a close, the special-education students in the Community-Based Vocational Assessment and Training (CBVAT) program in Minnesota's Osseo Area School District 279 are hard at work, creating graduation and retirement cards that rival any found in card stores, to sell to school faculty, parents, students and other community members.
Since the CBVAT program purchased the VariQuest Visual Learning Tools – the Design Center, Poster Maker, Cutout Maker, Awards Maker and Cold Laminator – three years ago, the students have been designing, creating, selling, delivering and advertising all kinds of products.
"With the VariQuest tools, our students are enjoying meaningful work and gaining real-world job skills," said CBVAT teacher Bev Rath. "It's wonderful to see what they can create, and the pride they take in their work."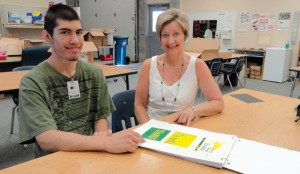 Located in Brooklyn Park, Minn., the CBVAT program serves 75 to 100 students each year, drawing from the district's three high schools. Most students in the program spend part of a school day twice each week at the CBVAT facility. For some of the work they produce, students receive nominal financial incentives, which they spend on events such as field trips to learn shopping and other life skills.
Any additional proceeds from sales fund supplies for the CBVAT program. Because the program serves students with disabilities, it was able to purchase the VariQuest tools, in part, with funding through a variety of state and federal resources, including grants and reimbursements. 
Creating Products, Learning Job Skills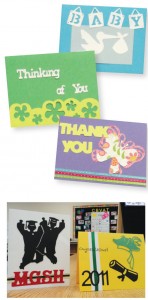 To advertise the wide range of products they can create – from greeting cards to posters to award plaques to parking passes – the CBVAT students and their teachers assembled three-ring binders detailing their offerings, and distributed them to secretaries and other personnel in the district's 31 schools. "People are impressed when they see what our students can make – every month we get more requests," said Rath's colleague, CBVAT teacher Terry Toops. "Our products have a sticker or stamp on the back that says, 'Created by CBVAT students.' Who doesn't love supporting that?" 
Using the VariQuest Design Center, the hub of the system, students and their teachers choose from more than 1,700 templates to use with the VariQuest Visual Learning Tools. "Our students are learning computer skills, and they love the touch screen of the Design Center," said Toops. "They use the VariQuest Software to manipulate the templates to make an item exactly how a school wants it."
Rath said that skill levels of the CBVAT students vary widely, but all of them find the VariQuest tools "easy and very safe to operate."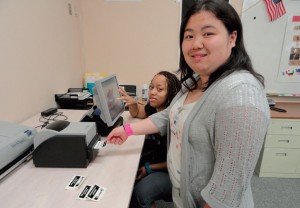 One of CBVAT students' larger endeavors has been creating parking passes issued to students in the district's three high schools. They use the Cutout Maker to make die cuts, the Awards Maker to create the emblems and the Cold Laminator to finish them. "Since we started making the parking permits in house, the schools are saving money while providing real work opportunities for students," said Rath.
Toops recalls calming students' nerves the first time they made parking permits. "Some were hesitant and we'd tell them not to worry, that they could do it and that we'd have opportunities to catch any mistakes," she said. "In no time, they were off to the races printing them – it was a real confidence builder."
Students are also gaining important math and literacy skills when using the VariQuest tools, Toops said. For example, the parking permits must be in numerical order, in groups of 50, and students need to read instructions to know that. "The work with the VariQuest tools allows us to informally assess all kinds of skills," she said.
Gaining Pride, Confidence in Work
Students are very hands-on as they work with the VariQuest tools, taking a project through the entire process, said Toops. "They punch in numbers, save designs and go on to the next set. They're feeding materials into the laminator and cutting. They're part of every step in creating the finished product."
Seeing their work "in action" is a source of pride for students, she said – whether they're hearing students admire posters that are hanging in the halls, or seeing students using athletics passes or watching students receive awards they've made. "While most of our students don't drive, when they see the parking passes hanging in their friends' cars, they're excited to tell them, 'I made those,'" said Toops. In addition, sometimes customers who place orders stop by the CBVAT work center, and "it's great for the kids to see who's on the receiving end."
Using the Awards Maker, CBVAT students created plaques for one school's wrestling team, as well as for the National Honor Society and school board members. "More and more people in our district are utilizing our services, when they see the quality of what our students can make and the educational benefit to them," said Rath.
Creating Visual Aids to Support Instruction
When teachers in the district are looking for a visual way to teach a concept, they often turn to the CBVAT students to create posters, which students complete with the Poster Maker. Orders have included posters to create awareness for Martin Luther King Jr. Day, as well as those to display class schedules and mathematical equations. CBVAT students have also used the Poster Maker to advertise another business venture – the weekly school café, operating in two of the high schools, where they sell coffee and donuts.
Rath, Toops and their colleague Laurie Yahn use the Poster Maker to make visual aids for their own classrooms as well. For example, they've created posters to teach students about hygiene and honesty in the workplace. They plan to use the Cutout Maker to create more visual aids for their students.
Some businesses in the community provide job opportunities for the CBVAT students, but there are not enough paid jobs for everyone. Since purchasing the VariQuest tools, CBVAT teachers are able to create a variety of projects and work orders to teach work skills, said Rath. "We have real work for them, which makes all the difference."
Toops, Rath, and Yahn all noted that purchasing the VariQuest tools has been a positive experience for the program. "We love the capabilities and use them every day. Our students are proud of what they can accomplish, and they're learning skills that will serve them throughout their lives," said Rath.