VariQuest is excited to begin a series of posts and resources pertaining to the Common Core State Standards accompanying our eGuide, "School Environment & the Common Core."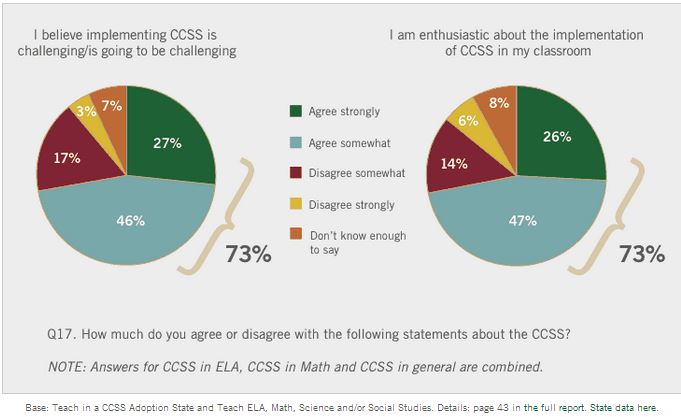 A simple search for "teachers and Common Core" yielded 56.9 million results. Some of the top results, however, led to dollar-driven resources and articles with titles like, "The X Biggest Problems with Common Core." With this mix of positive and negative attention around the Common Core State Standards, what do teachers have to say? We relied on secondary research for this brief exploratory post, however we welcome input from teachers who follow us and hope to continue this series with articles written by current teachers and administrators.
A New York Times series on the Common Core asked teachers their thoughts on the Common Core—what their experiences have been so far, how the standards affect their classroom, etc. We pulled a range of responses from teachers:
"I have no problem teaching the Common Core. I like it, actually, but if I'm going to be held accountable for it, I should be allowed to teach it as I see fit."
"McRel, Common Core, The AP College Board, ACT — and every other producer of prepackaged pedagogy and pontification is laughing all the way the to the bank. With our tax dollars."
"I don't believe the propaganda being levied against the common core is productive. The standards are broad enough to encompass nearly any topic in English Language Arts. An emphasis on close reading across disciplines will clearly benefit all students. I appreciate any additional funding for education and do not see a hidden agenda behind any of the grant-makers for these reforms."
"The CCS is fine. They are reasonable standards, but the hullabaloo surrounding their effectiveness and affect-ability is an obfuscation of the real problem. There is incredible inequity in educational systems across the country as well as from one neighboring school district to the next. The working conditions and the amount of per pupil expenditure differs as much from neighborhood to neighborhood as student readiness."
"By incorporating authentic and contextual learning, Common Core helps the student find his or her place. The age-old question, "Why am I learning this?" – first uttered somewhere towards the end of Kindergarten – finally has an answer other than, ". . .because it is on the test."
"Setting lofty goals in my classroom is a given. I will work my hardest in order to have every child reach those goals. The problems lie with the test and the resources needed to teach those standards."
After the Bill & Melinda Gates Foundation & Scholastic conducted a nation-wide survey with results published in early 2014, The Hechinger Report wrote a brief recap. "The findings were largely positive…But the feedback from teachers and districts also uncovers anxiety about how classrooms and students will be affected by the tougher standards." One teacher said, "I feel that my ability to be the best teacher possible for my students is most critically affected by the lack of professional time to adjust the curriculum to the Common Core."
Here are several key findings from the research:
Half of teachers in Common Core states say they are already teaching the standards in their schools. Only 6 percent say they haven't begun.
While the majority of teachers, 57 percent, say Common Core will be positive for most students, a third don't think it will make a difference. Eight percent say it will be negative. Elementary school teachers have a sunnier outlook on the standards than middle and high school teachers.
Among high school teachers, just 41 percent think the new standards will have a positive effect.
The survey asked teachers about whether the standards will meet the goals set for them, including better preparing students for careers and to compete in a global economy. The views were mixed: An overwhelming majority of teachers say the standards will help with consistency and clarity about what students are expected to learn across states. But just half agreed that they'll help students prepare for careers and to compete globally.
For teachers that have already started working on the standards, 62 percent say it's going well while 20 percent say it's not going well. At the same time, 75 percent of teachers say they feel prepared for the standards.
Forty percent of teachers say they worried about how students who are below grade level will keep up with the new standards, though, and more than a quarter worry about their special education students.
Teachers, what are your thoughts on these quotes from teachers and reports from the Bill and Melinda Gates Foundation?
Was this article useful, valuable, or interesting to you? You may be interested in our eguide on School Environment and the Common Core.