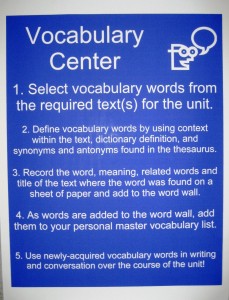 Implement learning centers in your high school classroom to foster multisensory and differentiated activities that can meet the needs of the diverse range of students' skill levels, interests and needs.
Who says that the fun and exciting learning that takes place in elementary school classrooms has to end there? Create learning centers in your high school classroom that provide both individual and cooperative learning opportunities based around clear and measurable goals. Be sure to clearly communicate the expectations of each center as well as student expectations as they work independently to ensure that students are focused on essential learning.
Identify the centers you will create, and then customize them based on a particular unit of study. Examples of centers for a medieval unit include the "Writing Center," that offers various writing prompts related to the Middle Ages; "Vocabulary Center," in which students choose a vocabulary word from selected text, define the word, then add it to the class word wall; or the "Art Center," stocked with art and construction materials that students could use to create an art form or picture to represent something of interest from the unit, such as recreating a stained glass window or designing and building a castle. Customize the Poster Maker template Layout 36 (LAY036) to communicate expectations and instructions for each center that will ensure student success and independence.
Create a rubric to assess students as they work in learning centers using Poster Maker template Rubric – 6 rows (ORG024). Categories for the rubric should include things like time on task, appropriate participation, content mastery and self-evaluation. Print a poster of the rubric, then display and review these general expectations with students prior to their first day of independent learning center work. Let them know that you will be monitoring them on the basis of the criteria identified and listed on the rubric. Keep the rubric posted throughout the year as a visual cue to remind students of expectations while working in learning centers. Use this to help you assess students' performance on center workdays.