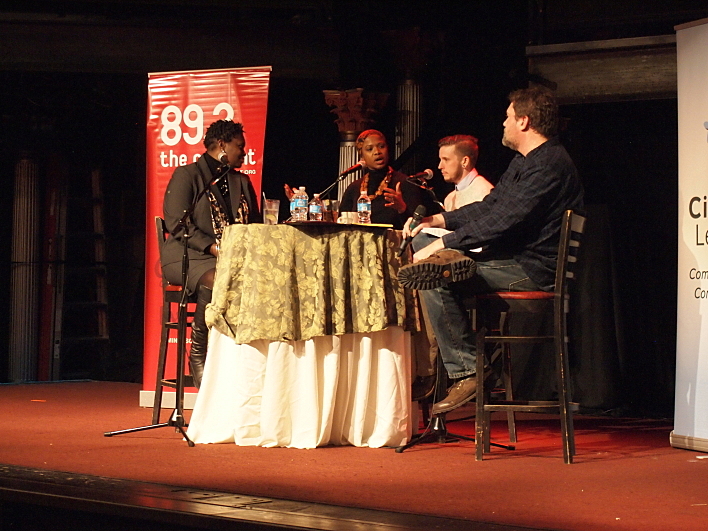 Image Credit: Todd Butcher for MPR
One of our core values at Varitronics is to serve community needs. Because of this, we do our best to participate in conversations about challenges within our own community in Minnesota. Varitronics strives to be engaged in our local education community, and is committed to attending events and school functions that benefit community needs.
On February 27, 2014, we attended an event as part of the Policy and a Pint series titled "The State of Education." The event, hosted by Minnesota Public Radio's The Current and the Citizen's Leauge, was held at the Varsity Theater in the heart of Dinkytown in Minneapolis. The key topic of conversation was racial equity, or rather inequity in Minnesota schools. You can find the full recording of the conversation here.
The Current's Steve Seel hosted and moderated a panel of three local educational leaders, including:
Michelle Walker, CEO, Saint Paul Public Schools
Kerry Muse, Chief Learning Officer and Head of School, Venture Academy
Sondra Samuels, CEO, Northside Achievement Zone
We thought it would be worthwhile for our readers' benefit to share a few of our key takeaways:
In order to have a conversation about the achievement gap, we must frame it as racial disparities in achievement
Early intervention is key
Equity is not the same as equality
Parents are a child's first teachers
The success of young scholars rests with families, schools, community, and policy makers equally--the "blame game" helps no one
Ending the racial disparities in achievement are in everyone's best interest
We were struck, as always, by the presence of technology in the room during the event. The hashtag conversation on Twitter (#policypint) was monitored by the moderator throughout the evening during the question and answer session, so that individuals off-site could be indirectly part of the discussion. Innovative events like this one engage not only the education community, but also the greater Twin Cities. The seats in the room were held mostly by young adults, a promising sign of an engaged and interested audience invested in change.
The evening's questions led to a larger conversation surrounding differentiated instruction and student-centric curriculum strategies. We have long felt that differentiated instruction was a key and necessary need in school, so it was affirming that our dedication to differentiated instruction is something these leaders said they needed to close the achievement gap, or rather, the opportunity gaps in their schools.
VariQuest Visual Learning Tools allow educators to customize instructional visuals and hands-on manipulatives specifically for their students' needs. You can use these tools to:
Create an interactive learning environment with differentiated instructional tools to improve student achievement for visual, tactile, and kinesthetic learners
Tailor instruction and offer opportunities for students to demonstrate their knowledge and abilities in non-traditional, visual ways by customizing content and including visual representations in lessons.
Incorporate posters and manipulatives into interactive learning centers to engage visual and kinesthetic learners, while helping students of all abilities work together and contribute at their individual skill level.
Reward students with customized award plaques and sticker to encourage positive behavior and hard work.
If you would like to learn more about how visual learning tools can support your efforts to differentiate instruction, check out the following blog posts:
We were inspired by the speakers and by the community's engagement, and are proud that our community is recognizing the severity of our racial equity "issue" and working together to create change. To conclude, panelist Sondra Samuels made it clear how needed change is with a poignant metaphor to help inspire listeners: "The house is on fire." We think with the cooperation of community members, the education community and leaders in business, this is a problem we can solve.
Learn more about racial equity in schools: